Member News – December 28, 2022
A Tip of the Cap from the Chamber
Winter Storm Elliott has caused a lot of challenges for the community - from burst pipes to power outages, travel delays and more.  Many helping hands have responded over the last week to assist neighbors, friends, customers, and those in need, including emergency plumbing and heating workers, volunteer firefighters and emergency personnel, snow plow drivers, township, borough and town workers, electric utility linemen and more, often in bitter cold and at personal risk.  Thank you!
Special thanks to PPL Electric Utilities who were among those businesses who set up warming stations in the communities they serve, while their linemen worked quickly to restore power to 100,000 customers since Thursday of last week.
LIONS GATE APARTMENTS TO HOST FREE EVENTS
Lions Gate Apartments will host free community events starting Friday.  Check them out!
Friday, December 30, - Kevin Haile (live music) from 8:30-11:30pm

January 6, 2023 - DJ Jon Gosselin will spin tunes from 7-11pm. 

January 12, 2023 - Kevin Haile (live music) 5:30pm - 7:30pm

January 26, 2023 - Kevin Haile returns with piano and percussion from 6pm - 8pm.
AGAPE is Closed for the Holidays, But They're Still Keeping People Warm
In case you missed it, there's still a way for community members to take advantage of AGAPE's help even while they're closed (through January 2).  Tied to the fence behind their building are sealed bags of warm gloves, blankets and hats.  They're encouraging community members in need to stop by and grab what they need from the fence.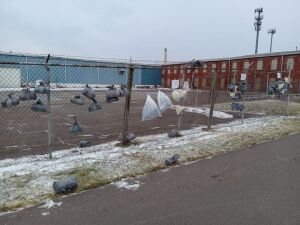 Bloomsburg Library to Host 'Learn your new device' Event December 29
Did you get a new phone or tablet over the holidays?  Stop in on December 29 to gain some useful tips from the Bloomsburg Library, who recently received a grant from the Bloomsburg Rotary to purchase five different devices for teaching.  The Dec. 29 digital literacy event is made possible by a Public Library Association incentive fund, in partnership with AT&T.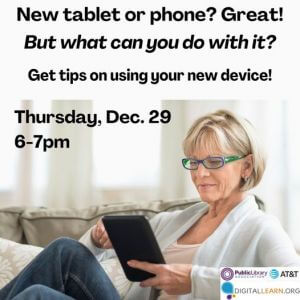 Congrats to Ryan Mazeikia...We Think
Dyco capped off the week leading up to Christmas with an ugly sweater contest, and while there were a number of ugly entries, only one could be crowned the ugliest! 

Congratulations Ryan Mazeika! His reward? To pose with Pete!

Tri-County Lumber Truss Plant Making Big Progress!
Did you catch the Press Enterprise's December 27 edition?  If you didn't, pick up a copy or read it online, because there's some great updates and pictures of the progress being made on the Tri-County Lumber & Truss Truss Plant in Lightstreet.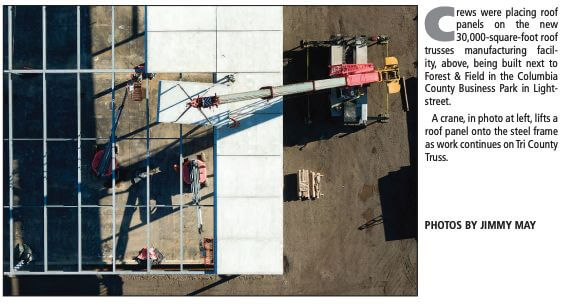 When it comes to finding your next favorite fancy occasion or New Years Eve recipe, this is it!  Elegant, delicious, and not-that-difficult to prepare!

Help protect the inside and outside of your home from winter weather damage.
NEPIRC: Responding to the Skills Gap
Chamber member NEPIRC has posted a great infographic and tips on how to create effective programs to retain and engage employees, leverage technology, apply lean manufacturing principles and more.  Check out these resources here.

Check out this guest post, which includes an overview of tax planning, projections, year-end purchases, and examples of assets to purchase at the end of the year.  
Benton Area, Columbia County - Floodplain Survey Due December 30, 2022
In October 2022, Columbia County released a two-page hard copy floodplain survey to the Benton Area titled, "Moving Towards Resiliency and Mitigation." The mailing also included a Survey Monkey link to complete online. All hardcopy and online survey submissions are due to be submitted by December 30, 2022. Additional information will be provided, when available, at SEDA-COG and Columbia County Resiliency websites - https://seda-cog.org/departments/flood-resiliency/columbia-county-flood-mitigation-studies/ and http://columbiapa.org/resiliency/index.php.
Bloomsburg Featured in List of Top 5 Places to Visit
Recently, The Keystone featured Bloomsburg as a Top 5 Place to Visit in PA, and showcased the gallery and work of The Art Exchange's own Oren Helbok.  Check it out!
As part of a coming Marketing and Design Course, Bucknell Students are offering to develop websites for local businesses and organizations free of charge.  Respond to their survey by January 10 for an opportunity to partner with these students.  Read more.  
PA CareerLink to Host Hiring Event in Bloomsburg January 11
Recruitment event in the new PA CareerLink Bloomsburg location. Come meet with a hiring manager in person to learn why they're a great place to work!
If the weather is bad please call before stopping in- in the event of inclement weather, they would not cancel, but it may be rescheduled!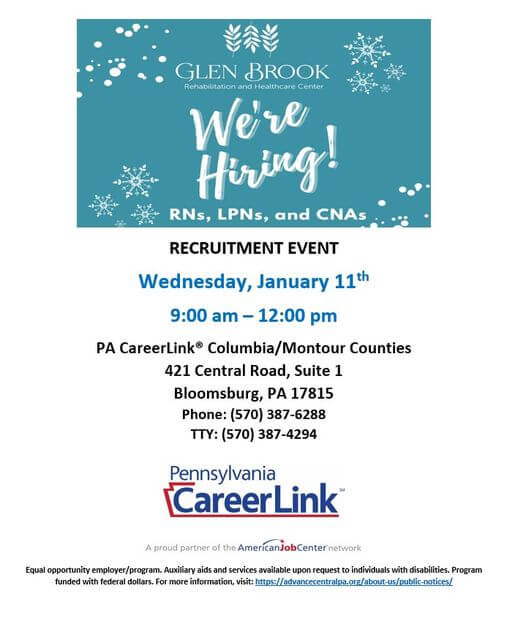 IMC To Host January Webinars
IMC has announced two (free) upcoming webinars, called "Training Within Industry - Foundations of Job Instruction" (January 10) and "Building an Innovative Enterprise - An Introduction to Design Thinking" (January 17).
Steinbacher, Goodall & Yurchak Welcome Attorney Eric Young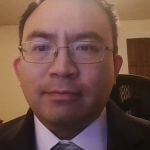 Steinbacher, Goodall & Yurchak, an elder law firm with locations in State College, Williamsport, Wyalusing and Wysox, Pa., is pleased to announce the addition of Attorney Eric Young to its staff as an associate attorney. Attorney Young comes to SGY with over 18 years of experience as an attorney in Pennsylvania, having been admitted to the Pennsylvania Bar in 2004, and having worked in several different areas of law during his career. He will work primarily out of the firm's Williamsport and Wyalusing offices, taking client appointments in both locations, and will assist clients with their estate and long-term care planning needs.  Read more about Attorney Eric Young