Member News – December 14, 2022
Bloomsburg Children's Museum Awarded $27,500 PPL Foundation Grant
Congratulations to the Bloomsburg Children's Museum, who announced that these funds will support fostering a generation of female mentors in STEM. The title of the program is, "Student to volunteer to employee to leader to advocate: Fostering a generation of female mentors in STEM".  The program aims to develop emergent female voices in STEM (science, technology, engineering, and math) with the goal of producing young women who will act as STEM ambassadors at the many events and programs the museum produces.
Guest Blog Post: How to Safely Heat Your Home
Check out this post from Zimmer Insurance!
Guest Blog Post: Three Lessons Manufacturers Learn from Nascar
Check out this guest post from IMC - Innovative Manufacturer's Center.
Guest Blog Post: Follow Safe Energy Practices for the Holidays
Check out this guest post from UGI Utilities!
McKonly & Asbury To Host Webinar ON Ethical Skills for Organizational Leaders
This free webinar on December 15th will discuss the unexpected benefits of an ethical work environment. Presenters will focus on ethical behaviors that set the "Tone at the Top" as well as employee's personal benefits of peace of mind, trust, and good reputation. The webinar will also address the numerous employer benefits including improved employee morale, enhanced employee retention, increased employee productivity, and a greater focus on transparency throughout the organization.  Click here to register.
CareerLink to Host "Zoom Your Way to Stress Management" - December 22, 2022
Are you feeling overwhelmed and not sure how to handle all the stress? Who isn't?!?! Join the PA CareerLink for a quick Zoom session on Thursday, December 22nd to learn how to get a handle on the stresses of everyday life, especially this time of year!  Join this Zoom link by 4:30pm on 12/22:
Benton Area, Columbia County - Floodplain Survey Due December 30, 2022
In October 2022, Columbia County released a two-page hard copy floodplain survey to the Benton Area titled, "Moving Towards Resiliency and Mitigation." The mailing also included a Survey Monkey link to complete online. All hardcopy and online survey submissions are due to be submitted by December 30, 2022. Additional information will be provided, when available, at SEDA-COG and Columbia County Resiliency websites - https://seda-cog.org/departments/flood-resiliency/columbia-county-flood-mitigation-studies/ and http://columbiapa.org/resiliency/index.php.
Congratulations to Frank, at Camp Victory!
After 16 years of service, well-known maintenance man Frank will be retiring from his work at Camp Victory.  Congratulations on your retirement, Frank!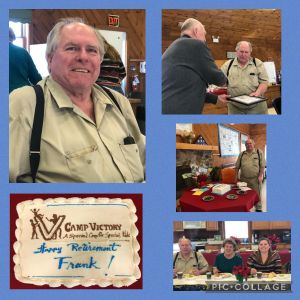 Bloomsburg Featured in List of Top 5 Places to Visit
Recently, The Keystone featured Bloomsburg as a Top 5 Place to Visit in PA, and showcased the gallery and work of The Art Exchange's own Oren Helbok.  Check it out!
IMC To Host January Webinars
IMC has announced two (free) upcoming webinars, called "Training Within Industry - Foundations of Job Instruction" (January 10) and "Building an Innovative Enterprise - An Introduction to Design Thinking" (January 17)
Bloomsburg Area YMCA To Offer Adaptive Recreation
This program is FREE to any children who are differently-abled from ages 6-16. With this program comes a FREE 6-month family membership.
SEDA-Council of Government Board Officers Elected
Board officers for SEDA-Council of Governments (SEDA-COG) were elected at the Dec. 7 public meeting.
The 2023 SEDA-COG Board of Directors' officers will be Centre County Commissioner Mark Higgins, President; Lycoming County Commissioner Scott Metzger, First Vice President; Snyder County Commissioner Joe Kantz, Second Vice President; Larry Reisinger of Perry County, Secretary; and Dennis Van Benthuysen of Snyder County, Treasurer.
The 2022 officers were Mifflin County Commissioner Kevin Kodish, President; Centre County Commissioner Mark Higgins, First Vice President; Montour County Commissioner Ken Holdren, Second Vice President; Larry Reisinger of Perry County, Secretary; and Dennis Van Benthuysen of Snyder County, Treasurer.
Higgins said he is looking forward to serving as board president in the new year.  To learn more, visit www.seda-cog.org.
More Holiday Events...
Here's a list of upcoming events in our communities to continue celebrating the holiday season!
Berwick
12/30 - Blood Drive at Glen Brook Health & Rehabilitation Center
Joy Through the Grove
11/25 - 12/31 - (Except for Christmas Eve and Christmas Day) 5:30pm - 9:00pm.  Learn more.
A comprehensive list of holiday events is also available on the Columbia-Montour Visitors Bureau's website.