It's Small Business Season!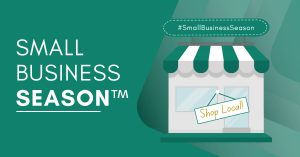 From November 17 – December 31st, we're celebrating Small Business Season™. The chamber is encouraging every person of our community to support friends and neighbors by shopping, dining, and exploring our small businesses.  We're also a Neighborhood Champion for the annual Shop Small campaign - more on that below.
Small Businesses Are a Big Deal to Columbia and Montour Counties
Small business made up over 60% of all new jobs this year and yet they face many challenges from rising costs to filling vacancies. Plus, according to JP Morgan Chase, "The median small business holds (only) 27 cash buffer days in reserve. Half of all small businesses hold a cash buffer of less than one month. Moreover, 25% of small businesses hold fewer than 13 cash buffer days in reserve." That means over 50% of small businesses wouldn't last over a month on their reserves.
They need our help, and we need theirs. On average, $68 of every $100 spent locally stays in our community. Most of us turn to small businesses first when we're seeking help for our nonprofits, youth activities, and sponsorships. When they thrive, we thrive!
Where you spend your money this holiday season matters.
Support small businesses by patronizing them and/or:
Writing reviews
Referring friends
Checking-in and taking pictures or videos and sharing them on social media when you're visiting small businesses
Sharing small business posts on social media
Talking about your favorite businesses on social media
Join us and pledge to support local this holiday season. Shopping small can make a big difference.
Are you interested in joining us for the Small Business Season Campaign, and receiving free marketing materials?  Let us know, by emailing Chamber Vice President Chris Berleth, at cberleth@columbiamontourchamber.com.
Shop Small
As part of our Small Business Season Campaign, we've also signed up to be your Neighborhood Champion in the annual "Shop Small" program.  Now through December, while supplies last, your Chamber has "Shop Small" window stickers, posters, and reusable shopping bags.  Contact Brenda Flanagan, at bflanagan@columbiamontourchamber.com at the Chamber to request supplies, or stop in to see us!