Member News – November 16, 2022
Bloomsburg Town Council Hires Administrative Finance Receptionist
Congratulations to Kyleigh Bilger, a recent communications studies graduate from Bloomsburg University.  Recently, Kyleigh interned as a media and Communications specialist with the Susquehanna Greenways Partnership.
FREAS FARM WINERY TO HOST CUSTOMER APPRECIATION DAYS
Visit Freas Farm Winery November 19 - 20, as they thank customers with special treats and a holiday gift basket drawing.
Prepare for Winter Heating Season with Energy Efficiency Measures
PPL is encouraging these Energy Smart tips to lower costs this winter.  Read more. 
Brookdale Senior Living Earns J.D. Power Award for 2022
Congratulations to Brookdale Senior Living for ranking #1 in the 2022 U.S. Senior Living Satisfaction Study for Assisted Living/Memory Care.  The Study surveys family members' and decision-makers' satisfaction with their loved one's senior living community.  Read more.
It's Community Foundation Week!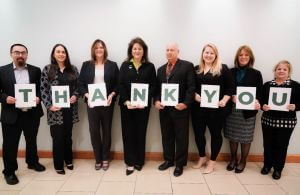 The Community Giving Foundation is celebrating stories from donors, nonprofits, board members and community partners during Community Foundation Week (November 12 - 18).  For two more days, community members are invited to take a selfie in the social media contest with the hashtag #CommunityFNDWeek.  Use the selfie to express what community giving means to you, and win a chance at a special t-shirt.  Learn more here.
Hand in Hand Family Resource Center to Host Sensory Santa
Sensory Santa is an opportunity for children (of all ages) to experience Santa in a quiet and welcoming, sensory-friendly environment.  This year, Hand in Hand Family Resource Center will host events in Berwick (12/3), Bloomsburg (12/11), Benton (12/18), and Danville (12/18).  Traveling Santa visits children that are unable to attend our events due to medical or extreme sensory needs.  Each visit with Santa is private for the family and is child-led - Santa will sit at a distance or get down on the floor and play.  Santa also brings each child and their siblings a gift that is hand picked just for them.  See the flyer for more.
Thrivent to Host Seasonal Event & Informational Session for Local Charities
Thrivent invites community members to enjoy food and friendship for a good cause at an event they're hosting at the Pine Barn Inn on Sunday, December 18, from 1pm to 5pm.  Event will feature hors d'ouevres, seasonal beverages, a carving station, and more for all guests.  Guests will enjoy a brief informational session for the Animal Resource Center, the Janet Weis Children's Hospital, and the the Jared Box Project.  RSVP by November 22 by calling 570-317-2111 or by emailing IronGuideGroup@thrivent.com.
Upper Augusta Flood Mitigation Project Receives Funding
With help from the offices of Senator John Gordner and Representative Lynda Schlegel-Culver, Upper Augusta Township received a $468,890 Flood Mitigation grant from the Commonwealth Financing Authority to address flash flooding.  Read more.
T-Ross Brothers to Host Holiday Open House November 30
Chamber members are invited to attend.  See the flyer here.
It's the Holiday Season...and We're Your Clearinghouse for Community Events
Berwick
Bloomsburg
11/25 - 4:00pm - TreeFest begins at the Caldwell Consistory
11/25 - 4:30pm - Parade of Lights - forms in Geisinger Bloomsburg Lot, moves at 6pm; Lighstreet Rd to Main St., Market to 5th, 5th to Fairgrounds.  Register here.
11/25 & 11/26 - 10:00am - 8:00pm - Winterfest at the Fairgrounds - (Free) - Shop over 150 craft vendors inside the fair buildings including local wineries and breweries.
11/26 - Santa begins hours at Exclusively You on the square.  Schedule here.
11/26 & 11/27 - North Pole Express Train Rides - Rides are approximately 1 hour and travel from Bloomsburg at Autoneum to Catawissa.  Ticket availability here.  Tickets for 10am Saturday ride are sold out.  Tickets can also be purchased at Exclusively You, The Exchange, and Town Camera.
12/2 - Coming Home for Christmas/Tree Lighting - Tree lighting at 5:30pm in front of the Bloom Diner.  Coming Home for Christmas to be held outside the Caldwell Consistory.
12/2, 12/3, 12/9, and 12/10 - Santa visits Renco Ace Hardware!  Photos are free, but Renco is requesting consideration - that customers bring a nonperishable food item or monetary gift for AGAPE's Food Bank.
Danville
11/19 - 9am - 7:00pm - Scott's Floral to host Holiday Open House
11/19 - Free Wagon Rides - 4pm - 7pm - Take a break from the hustle and bustle with a relaxing horse-drawn wagon ride from Lower Mulberry Street.
12/3 - Hometown Holiday Market - 11am - 4pm - Festive street fair featuring holiday shopping, entertainment, and activities on Mill Street.
Wagon Rides are sold out for 12/3, 12/10, and 12/11.
Riverside
The Boro of Riverside will host its 2nd Annual Parade of Lights on 12/3.  Parade forms at 4pm at former Riverside Elementary School.  $50 prizes will be awarded in four categories - walkers/marching, vehicles without floats, large floats (over 20 feet), and small floats (under 20 feet).  Santa in the Park will be located under the park pavilion.  Registration due by November 30 to the Riverside Boro.
Joy Through the Grove
11/25 - 12/31 - (Except for Christmas Eve and Christmas Day) 5:30pm - 9:00pm.  Learn more.
UGI URGES ELIGIBLE CUSTOMERS TO APPLY FOR LIHEAP
UGI encourages eligible natural gas and electric customers to apply for the federal Low Income Home Energy Assistance Program (LIHEAP) funds to help cover the cost of heating their home this winter. Applications will be accepted by the Pennsylvania Department of Human Services beginning November 1, 2022.
HOME IMPROVEMENT TIP FROM LARRY'S LUMBER!
Check out the latest blog post from Larry's Lumber, which regularly features cost-saving recommendations to keep your homes (and your employees homes) in good condition.