National Veterans Small Business Week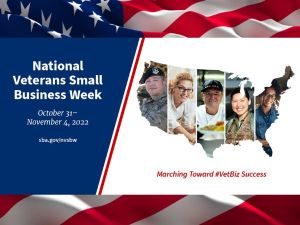 This week, the Small Business Administration celebrates, connects with, and empowers aspiring and current service members, veterans, National Guard and Reserve members, and military spouse entrepreneurs during National Veterans Small Business Week.
Through November 4, SBA and its extensive partner network will celebrate the strength and resilience of the #VetBiz community by hosting events across the country and sharing information about the resources available to veteran entrepreneurs.
Discover transition assistance resources like Boots to Business or connect with your local Veterans Business Outreach Center to develop your business plan, receive marketing tips, and access government contracting opportunities.
Here's a few additional resources we'd like to highlight:
The Military Reservist Economic Injury Disaster Loan Program (MREIDL): Provides loans of up to $2 million to cover operating costs that cannot be met due to the loss of an essential employee called to active duty in the Reserves or National Guard.
Boots to Business: An entrepreneurial program offered on military installations around the world and a training track of the U.S. Department of Defense Transition Assistance Program (TAP).
Boots to Business Reboot extends the entrepreneurship training offered in TAP to veterans of all eras in their communities.
Boots to Business Revenue Readiness is available after completion of Boots to Business or Boots to Business Reboot and provides a six-week virtual program that prepares participants to take their business idea from concept to an executable business model.
Women Veteran Entrepreneurship Training Program (WVETP): Provides entrepreneurial training to women veterans, women service members, and women spouses of service members and veterans as they start or grow a business. SBA funds these entrepreneurship training programs available exclusively for women veterans through grantees:
Service-Disabled Veteran Entrepreneurship Training Program (SDVETP): Provides entrepreneurship training program(s) to service-disabled veteran entrepreneurs who aspire to be small business owners or currently own a small business. SBA funds entrepreneurship training programs for service-disabled veterans through grantees:
Veteran Federal Procurement Entrepreneurship Training Program (VFPETP): Delivers entrepreneurship training to veteran-owned and service-disabled veteran-owned businesses nationwide interested in pursuing, or already engaged in federal procurement.