Member News – November 2, 2022
Farm Bureau Announces 2023 Farm Bill Priorities
In the next U.S. Congress, the PA delegation will have at least eight members who have not yet been through the Farm Bill process.  This year's AFBF priorities, which local farm bureau chapters like the Columbia County Farm Bureau contribute to, include recommendations regarding commodities, conservation and crop insurance.  Read more here.
McKonly & Asbury Year-End Tax Planning Webinar
Did you miss this too-good-to-miss update from Charles Eisenhart, CPA and Mark Heath, CPA?  Check out the video, here.
Bloomsburg Granted Full Membership in University Sales Center Alliance
The Professional Sales Center (PSC) of the Bloomsburg University Zeigler College of Business has been approved for full membership status in the University Sales Center Alliance (USCA). The announcement was made at the organization's annual meeting in Ogden, Utah last month.  Read more.
Zartman Congratulates Steve Reich
Steve, a General Superintendent, recently celebrated 35 years as a Zartman team member.
BLOSSOMS IN BLOOM BY MEGAN AND SOMETHING BORROWED BY T + M TO HOST GRAND OPENING NOVEMBER 5
From 9am to 5pm on November 5, stop by Blossoms in Bloom by Megan and Something Borrowed by T & M for their big event!  They'll be offering discounts on non-vendor merchandise and there will be light refreshments and snacks available! They will also have the other half of our store open that has Something Borrowed by T&M for you to check out any of your decor rental needs!
PPL Electric Utilities Receives Congressional Commendation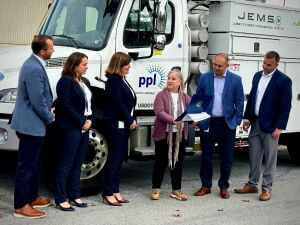 Congresswoman Susan Wild recently recognized PPL for their innovative Smart Grid, which has helped to improve overall reliability and reduce outages. Since 2015, the PPL Electric Smart Grid has helped to prevent more than 1.4 million customer outages.
Speed increases will help many of residential Internet tiers, including 2 Gbps download speeds beginning November 1st. Customers may begin enjoying the speed upgrades sooner with a quick cable modem reset by disconnecting/reconnecting the power cord from the back of their modem.  Read more.
CAPTURE TREMENDOUS OPPORTUNITIES: ECOMMERCE 101 FOR MANUFACTURERS
The Innovative Manufacturers' Center will host this free webinar Nov. 8 from 11am to noon.  The program will feature an eCommerce checklist for beginners, 1st page rankings on Google, creating effective landing pages, and targeting customers with Google Ads and Shopping.  Check out the link for more.
SMALL BUSINESS DEVELOPMENT CENTER HOSTING WEBINARS
"Power of Positive Leadership" Webinar 11/8, 12pm

Join the SBDC for this SHRM-approved, free webinar to explore the value that positive leadership brings to an organization.
"Why Are Business Owners Resistant to Virtual Work?" Webinar 11/9, 12pm

Gain insight into how employees feel about leaders in evolving workplace dynamics, explore the emotional impacts of virtual, hybrid and in-office work for leaders and employees, and share challenges and best practices for leading a dynamic workplace.
For these programs and more, visit here.  Hoping to connect with your local SBDC?  Columbia County is served by Wilkes University SBDC, and Montour County is served by the Bucknell University SBDC.
1 Million Cups Susquehanna Valley to Meet 11/9, 9am
1 Million Cups is a forum that empowers entrepreneurs to share great ideas over a cup of coffee.  When you attend, you support local businesses – better yet, when you present , you can get great feedback for your own business.  The next event will be 11/9 at Susquehanna University's Degenstein Campus Center, Benjamin Room 2-5.
KEEP OUR KIDS WARM
As part of its coat request program, Central Susquehanna Opportunities has created an application form which will be accepted through November 11, 2022.  Download the form.
The Bloomsburg Veterans Day Parade is Saturday November 12
Forming at 9am at the Bloomsburg Geisinger Hospital, the parade steps off at 10am.  A short program at the conclusion of the parade will be held at Bloomsburg Fire Hall.  Floats and Participants wanted.  Call 570-594-6539 or 570-594-5549 with questions.
SUSQUEHANNA VALLEY UNITED WAY TO HOST BE KIND POSTER CONTEST
The contest will span across elementary, middle, and high school age groups in Snyder, Union, Northumberland, Columbia, and Montour counties. The competition will be open from October 12th through November 30th.
PA CAREERLINK® COLUMBIA/MONTOUR COUNTIES MOVES TO NEW LOCATION
The PA CareerLink® Columbia/Montour Counties is moving from 415 Central Rd Suite 2, to the building next door at 421 Central Rd., Suite 1 so as to better serve job seekers and businesses utilizing CareerLink services.
BASON COFFEE HAS MOVED!
Bason Coffee's Retail Store has moved to 453 Mill Street, and the storefront features a new name: Bason Coffee and More.
TOWN OF BLOOMSBURG LOOKING TO EXPAND WAITLIST FOR HOUSING REHABILITATION GRANT
The Town recently received a $500,000 housing rehabilitation grant and encourages interested residents to apply for no-cost repairs.  Read more.
The guide includes contact information for Financial Assistance, Disaster Relief, Mental Health & Substance Use, Food & Clothing, Housing, Legal Services and Transportation.