Welcome New Member – Something Borrowed by T + M, LLC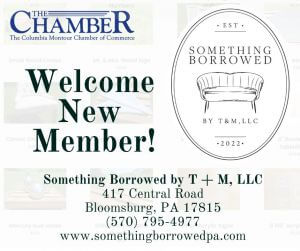 Tonya and Megan saw a need for a business in the NEPA area that provided people the ability to rent items for their events. Whether it be Weddings, Bridal Showers, Baby Showers, Themed parties, etc., Something Borrowed offers you the items that you need to make your event beautiful and unique at a reasonable price, while saving you the hassle of having to spend hours shopping for items you will only use one time.  Something Borrowed offers these one-time-use items at a low cost, while saving you the trouble of figuring out what to do with the items after your event.  Inventory includes items such as furniture, tableware, backdrops, signs, lanterns, games and more!
With a love and passion for making things extra special for those memorable moments, we know you'll find exactly what you're looking for at Something Borrowed, by T&M.  On behalf of the Columbia Montour Chamber of Commerce, welcome Tonya and Megan, to the Chamber!
To learn more about Something Borrowed by T+M, LLC, visit their website.