PACP Recognizes Chamber Professionals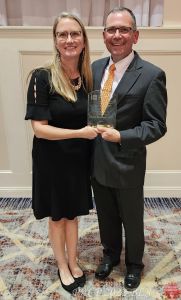 Gettysburg —Chamber of commerce professionals from across Pennsylvania, including Fred Gaffney, President of the Columbia Montour Chamber of Commerce earned distinguished service awards from the Pennsylvania Association of Chamber Professionals (PACP) during the 2022 PACP Chamber Professionals & Leadership Conference held recently in Gettysburg.
Each year, the organization recognizes chamber professionals who have served any five-year increment in chamber management.  In 2022, Gaffney celebrated his twentieth year as a Chamber professional.
PACP's Service Awards are meant to promote and recognize outstanding chamber service not only to the individual's community but also to their professional association. Joining Gaffney in receipt of PACP's service awards were Jodi August, Greater Dubois Chamber of Commerce, Samantha Chivinski, Schuylkill Chamber of Commerce, Brian Schill, Peters Township Chamber of Commerce, Joe Hurd, Blair County Chamber of Commerce, and Melody Longstreth, Greene County Chamber of Commerce.
Gaffney had an eventful night – in addition to receiving his twenty-year Service Award, he was recognized for vision, leadership and commitment to the Chamber profession as the 2022 PACP Board Chair.  His term as Chair will end December 31, and he'll serve as Immediate Past Chair, alongside the new slate of PACP Board Directors, who were also announced in Gettysburg.
The 2023 Officers and Board of Directors who will take office on Jan. 1, 2023:
Officers: Chair, Tracy Becker, Clarion Area Chamber; Chair-Elect, Brian Schill, Peters Township Chamber, Treasurer/Corporate Secretary, Gina Suydam, Wyoming County Chamber; Immediate Past Chair Fred Gaffney, Columbia Montour Chamber;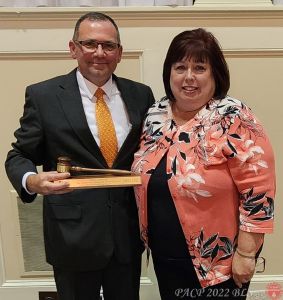 Board of Directors: Ron Aldom, Somerset County Chamber; Jodi August, Greater DuBois Chamber; Chris Berleth, Columbia Montour Chamber; George Book, West Shore Chamber; Lindsay Griffin, Greater Wyoming Valley Chamber; Alex Halper, PA Chamber; Steven Hunsberger, Indian Valley Chamber; Michelle Kreutzer, Pittsburgh Airport Area Chamber; Christa Lundy, Meadville Area Chamber; Katie Hetherington Cunfer, Greater Reading Chamber.
Board members serve in a volunteer leadership role for a specified term, developing and leading the annual Plan of Action to assist in the enhancement of quality education in professional and organizational development to its members. Key events for PACP include the annual Chamber Professionals & Leadership Conference, Chamber Day in Harrisburg, and ongoing professional development webinars and programs.
In addition to the awards program, the annual Chamber Professionals & Leadership Conference is a key benchmarking opportunity for Chambers to consider best practices and to add value back to their members.  Gaffney and Chamber Vice President Chris Berleth were among 65 colleagues at this year's program.