Surprising Statistics About Print Media
It's easy to assume that print marketing has lost its relevance in the digital era.  This isn't so.  In fact, there are compelling statistics to warrant advertising and marketing in print as a key part of your business strategy.  As a Chamber, we're compelled to pursue the options that help your business to tell its story.  That's why we offer to the public the quarterly "Business Matters" publication in partnership with Press Enterprise, and why we continue to offer as a key member benefit the opportunity to advertise in ChamberPack, the direct mail packet sent nearly each month to our members. 
As more and more consumers are trading traditional print materials for smartphones, tablets, and laptops, businesses are also moving their advertisements online. Why do we continue to offer these publications?  Here are a few statistics that might convince you that print is still important:
Compelling Statistics
70% of households with an income above $100,000 are newspaper readers (Mansi Media, n.d.)

95% of people under 25 years old read magazines (Top Media Advertising, n.d.).

82% of consumers trust print ads the most when making a purchase decision (Burstein, 2017).

Print readers usually spend 20 minutes or more with their publication in hand, while a typical visitor to a digital news site sticks around for less than five minutes (Heitman, n.d.).

Print ads require 21% less cognitive effort to process (R.C. Brayshaw, 2020).

By combining print and digital ads, it will make online campaigns 400% more effective (Top Media Advertising, n.d.).
While it's easy for marketers to jump on the bandwagon and put all their money on digital marketing, a closer look at these digital vs print advertising statistics show us that print ads provide better results when it comes to brand recall and response rate.
Nearly 80% of consumers act on direct printed mail advertisements compared to 45% of consumers that act on electronic advertisements (Potochny, 2017).

Print and direct mail marketing bring a 9% customer response rate compared to other digital marketing channels, which hover around 1% or less (R.C. Brayshaw, 2020).

Print ads generate a 20% higher motivation response—even more so if it appeals to more senses beyond touch (R.C. Brayshaw, 2020).

If you're curious about brand marketing, you'll be happy to know that advertising in print drives higher levels of brand recall vs. digital (77% vs. 46%) (Newsworks, 2020).

92% of 18- to 23-year-olds find it easier to read print over digital content (Forer, 2017).

The response rate for direct-mail marketing is 37% higher than the email rate (Medina, 2019).

Digital ads are less recalled than print ads but they are more effective than print ads at converting engaged readers into action takers (64% vs 55% for print) (Newsworks, 2020).
Print Options from Your Chamber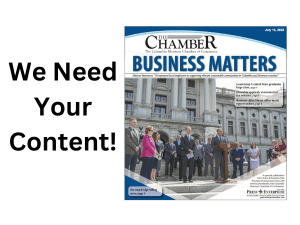 Each quarter, the Chamber partners with the Press Enterprise to publish "Business Matters", a special edition of the newspaper driven by Chamber content and our members' news.  Sent to more than 21,000 readers of the Press Enterprise, this edition allows the Chamber and its members the opportunity to reach a wide audience in Columbia and Montour Counties in the most traditional of communications mediums.  To put this out each quarter, the partnership works like this: the Chamber assists in soliciting and laying out the content from its members, while the Press Enterprise offers the ads that pay for the edition to go to print.  Said another way, content submitted to the Chamber to layout is free to our members, while the ad rates are competitive.
Also in print, your Chamber regularly assembles "ChamberPack", a nearly monthly packet of flyers printed by members, assembled by the Chamber, and mailed directly to our members' doors.  The price of advertising helps us to cover the cost of postage for the packets. 
We'd love it if you would consider submitting news and content for both publications, working with the Press Enterprise for your Business Matters advertising, and directly with the Chamber for ChamberPack.  For more information, contact Chris Berleth, Vice President, at cberleth@columbiamontourchamber.com.
The deadline to participate in the next Business Matters is September 27, for the October edition.  The Chamber's next ChamberPack is set to be mailed in November.  Check out the ChamberPack Reservation Form.