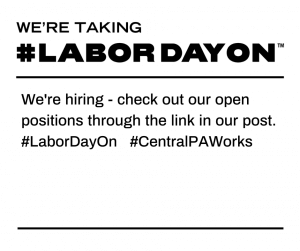 For unemployed Americans, this Labor Day won't be a day off, so we're taking #LaborDayOn.
Created by Red Wing Shoes in 2021, the #LaborDayOn campaign is a rallying cry for businesses to post their jobs for all to see.  This year, thanks to community partners at DRIVE, the CareerLink and others, the Chamber and its Foundation are excited to join the campaign with a a focus on Central Pennsylvania.
Join Us For the Campaign September 5 - 9, 2022
From September 5 through September 9, the Chamber and its Foundation are asking businesses big and small to join us in posting any job openings that they have using the hashtags #LaborDayOn, #CentralPAWorks and tagging the Chamber and Foundation social media pages in the posts.  When you post, the Foundation's social media platforms will share it.  When Chamber members post to Facebook and LinkedIn, these posts will also be shared by the Chamber's social media.  Additionally, the Chamber will be highlighting businesses who have submitted job postings to the Chamber website, found here.
Use the Toolkit
Our partners in this effort, DRIVE, created a uniform toolkit for businesses to use, including the image files for posts and an FAQ document.  Please feel free to download these resources here.
Together, our hope is to reclaim the true meaning of Labor Day and help talented, Central Pennsylvanians and local businesses find the thing they need most: each other.